Support from A to Z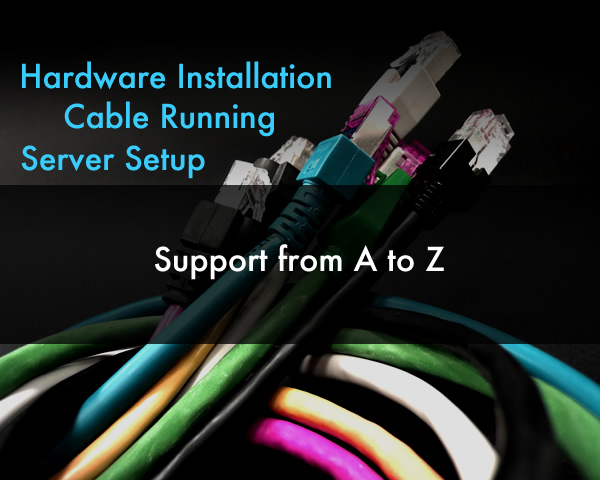 We're here for you.
More results, quickly, using fewer resources, when you need them.
Admin access to servers
You're the confident admin who wants complete access to servers, and just a little support when you need it. We'll give that to you. We'll do as little or as much of implementation and maintenance as you want.
Backups
Want to make changes, content or styles, but don't want to risk a public website fiasco? Worried about having your site hacked or commandeered by malicious visitors? With Backups you'll have an alternative whenever your site is compromised. You'll be able to rest easy. If your server is compromised, we can spin up a copy of your site on a new or several new servers within minutes.
Tisk analysis
We'll help you determine your organization's most vulnerable, high-impact, weaknesses and, more importantly, how to fix them before anything happens.
Implementation Strategy
Interested in adding new features to your office, online systems, or optimizing your server configuration? We'll help you figure out the best steps to accomplish your goals, and if you want, implement them for you.
Virtual support
It's the middle of the night, the 11th hour, when all goes wrong. Don't worry. Our offices may not be open, but one of our staff may still be able to help you by starting a web conference and walking through the issues with you. We use Skype, web conferencing systems, and our phones. Your emergency is ours, and we'll be able to assist you WHERE you are and WHEN you need us.
CDNs
For sites that suffer from millions of hits each day, or are under a DDOS attack and need to support a huge traffic load, we offer CDN management services. With our content delivery systems, you don't have to worry about your site being slow or going-offline because of server-overload. You site will load quickly all over the world.* (limited to geographic locations with CDN capabilities
Constant monitoring
We can let you know if your network has unusual or suspicious traffic. We'll know the moment that your network starts flaking or goes down for whatever reason. You won't have to wait until you receive a call from management, a customer, member, or constituent. Our monitoring systems alert us and enable us to rush to rescue right when you need it!
Cable running
New office? Renovating? Outdated network system? Let us help you plan and setup the network that provides the best value to you.
This includes:
Audio Visual Systems – Construction, cable running, speaker and mic installments, remote controlled recessed screen connection and installation, projector installment. Master/slave systems.
Security installments: camera and intrusion detection systems networked into an alarm system that alerts you to unusual activity
Network monitoring – protecting you from malicious attacks, learning and analyzing authorized user behavior in order to detect uncharacteristic behavior.
Multi-authentication processes for doors, applications, intranets, knowledge repository to keep your sensitive information from falling into the wrong hands.
Sabotage defense strategy: your information, network, or website has already been compromised. We'll help you figure out how to deal with it and best steps to prevent a reoccurrence.
Phones, VOIP phones, Printers, copiers, fax machines, and other hardware installation: We'll architect, setup, and network your hardware into a single system that's easy to use.