Security Solutions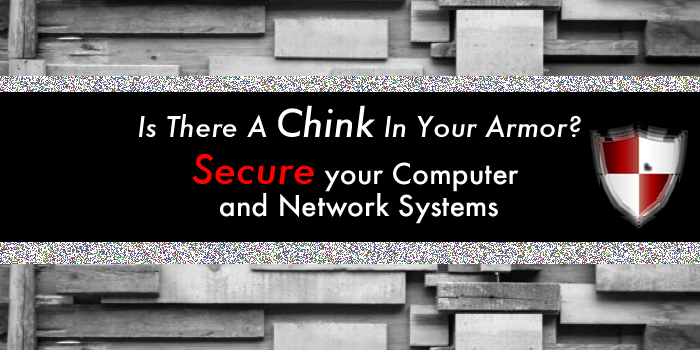 New threats tread close upon the heels of new technology. Gone are the days when having just a username and password for your computers and network system was enough. Learn About Our Top-of-the-line Security Solutions.
Keeping Your System Safe
The more complex your system, the more security risks you'll need to consider.
As web technology becomes increasingly sophisticated, so do the threats that plague it. In order to keep your systems running optimally, you'll have to take active defensive measures.
You need to be able to anticipate potential threats.  You must have a plan of action for when attacks occur.  You have to ensure that your staff or infrastructure can bounce back after an attack,  because when it comes to system security, you mustn't compromise.
The Xykon Protection
At Xykon, our architects and network security analysts meet with you to review your system and business processes.  We identify and assess vulnerabilities so that you won't be surprised by them.
Our security consultants will analyze your system and identify what kinds of threats, attacks and accidents your system is vulnerable to.  We'll work with you to develop a sound plan that holds up through the wake of unforeseen events.
Defense Strategy
Our security solutions are among the best and are continually being refined as we encounter and successfully fend off new and increasingly aggressive attacks from local and foreign sources.  Due to our experience protecting the websites of our international and local clients, we've become experts at recognizing potential security hazards.  This is key to ensuring minimal disruption when attacks do happen – which they will.   Our consultants will work with you to identify risks, security tradeoffs, and how best to deal with these threats.  We'll ready your system for potential security breaches and formulate a rock-solid defense strategy that shelters your system from many possible and dangerous eventualities.
Security Architecture
Our security architecture and proven countermeasures mean that our clients can rest assured that their systems are flexible enough and have the integrity to withstand numerous and varied attacks.   Our architects follow standards that make updating your systems straightforward and allow you to build out your systems or scale down without compromising security.  We'll not only develop secure systems for you, but we'll also provide guidelines for future development and help you make sure that day-to-day operations, changes,  new development, and business processes do not introduce new security risks.
What You Get
Assessment of security vulnerabilities
We will do a complete audit of your system to identify vulnerabilities and assess them. This initial assessment is critical in evaluating the type and size of threats and the potential adverse impact on your operations. Once we have completed this audit, we will work with you to develop a plan for managing or mitigating these threats and then implement the necessary solutions.
Deployment and configuration of network devices
We specialize in deploying and configuring basic and sophisticated network devices so that you don't have to worry about managing security and network issues by implementing these solutions yourself.
Remote assistance for network devices and servers
It doesn't matter where you are. If you need assistance with network devices and servers, we should be able to reach you remotely. All you have to do is get in touch, tell us about your problem, and we'll take it from there.  If you are on one of our special monitoring plans, we'll probably know about your issue before you do and have a solution already underway.
Cloud-based security solutions
Many of our clients find cloud-based security solutions attractive because it delivers protection on a subscription basis (instead of a much more costly hardware-basis), while removing the inconvenience of  managing systems, updating software and hardware, and investing in private technical infrastructure.
Server and network hardening
Our consultants can help you:
– Implement virtual private networks (VPN)
– Establish virus protection with automatic update service on all critical systems
– Create a security alert system and develop mechanisms for quickly patching systems
– Create a centralized authentication system (CAS)
CISSP-certified security experts
Our security experts are CISSP-certified. The CISSP certificate is formally approved by the U.S. Department of Defense (DoD) in various categories for their DODD 8570 certification requirement and is a baseline for the U.S. National Security Agency's ISSEP program.  As such, our experts are certifiably equipped to assist you with the following:
– Access control
– Telecommunications and network security
– Information security governance and risk management
– Software development security
– Cryptography
– Security architecture and design
– Operations security
– Business continuity and disaster recovery planning
– Legal, regulations, investigations and compliance
– Physical (environmental) security
OSSIM configuration, web proxies and anomaly detection
Among other kinds of assistance, our consultants can set up an intrusion detection system (IDS) like SNORT for your website and position your network safely behind commercial or linux-based firewalls.