Optimizing Your Environment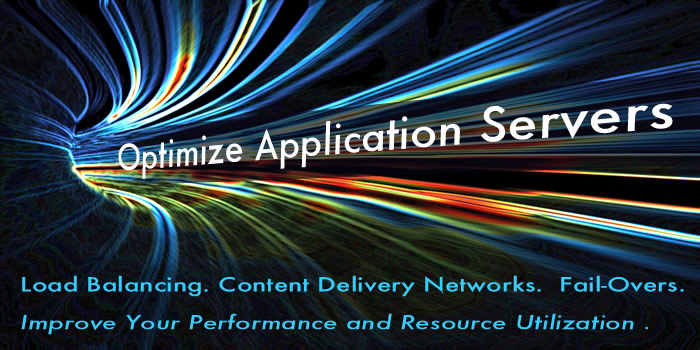 Even if a solution works just fine, there may be ways to make it work better for you.  Let our experts help you improve your application servers to reduce down-time, run faster, and save costs.
Highly-Available Applications
Nurture Your Website
Applications are the backbone of any efficiently run operations-based business.  Your organization's day-to-day activities depend upon applications running smoothly and without hiccups.
Your applications though, are taxed harder than you think.  Not only do they have to service the organization, but they also have to keep up with changing environments and interdependent technologies. Wthout the right kind of maintenance or improvements, your applications won't be able to.  They need to be maintained; they need to be nurtured.
Regular Optimization
When it comes to maintaining your application servers, one of the most harmful schools of thought is "If I don't make any changes, it'll work perfectly, indefinitely."  That's false. It's going to break.  Why?  Because business processes evolve, interacting technology changes, bandwidth requirements increase and browsers are updated.  Technology does not stand still. It's that simple.
In this rapidly evolving workplace, it's inevitable that your servers will need to be updated or else risk working less efficiently or crash repeatedly as time progresses. That's where Xykon comes in. We'll take a look a look at your application servers and determine how best to improve them so that value is added at a high benefit-cost ratio to you.
Businesses that are most successful and stay ahead of the competition are the ones who continually improve before they need to. Being proactive, instead of reactive, frees up resources for value-added upgrades instead of thrown-together last-minute implementations.  Proactive organizations see the change around the curve instead of being taken by surprise.
It is only with regular assessments and continuous improvements that previously 'optimized' systems remain so. We'll monitor your application servers so that they are continually optimized. You shouldn't have to spend valuable time on making sure that supporting tools work properly. We're experts at optimizing servers, so that you'll be able to focus on core business operations that directly effect your organization's bottom line.
What We Do
Troubleshoot systems
Many of our existing clients found us when their servers were being more of a hindrance than an asset.  We're known for being able to quickly troubleshoot and diagnose the problem at hand in half the time that it takes most other firms to do so.
At Xykon we rely on the skills and expertise of our consultants, some of the most knowledgeable professionals in the industry, to address emergencies and ensure that volatile systems become stable.
Optimize servers
Enhance performance to get the most from your servers. We can help you boost performance and maintain an optimal environment, because when the backbone of your organization should never be compromised.
Optimize resource utilization
Improper resource utilization can put a hidden dent in your bottom line and a very obvious one in day-to-day operations. Not only does it eat into profits, but it also detracts from other systems that could utilize the resources that it wastes. When you use your resources optimally, you ensure that you get the most from what you're paying for. Let us audit your server and provide you with a strategy to improve resource utilization and lower your costs.
Implement content delivery networks
Making sure that your content reaches your target audiences is key. It's crucial for any business to ensure that the content that it advertises is actually delivered.  We can make sure that no matter where your site's visitors are in the world, or how many people are downloading your content, that your websites perform optimally. We can make certain that your sites are reliable, fast, and accessible internationally. We can set your site up on a minimum-fail content delivery network.
Load-balance and failover server deployment
Xykon's server administrators will set up load-balancing on your server so that your server's workload is distributed across several units to decrease chances of overload and optimize resource utilization. We can also implement failover on your server so that even if one or more server components fail, services will continue. There are other strategies that Xykon employs to maximize uptime.  Please contact us to learn more about how we can assist you in configuring your servers.